It may be starting to feel like fall, but when it comes to your garden, it's time to spring into action. Sure, we're closer to winter blizzards than we are to April showers, but now's the time to do some digging, planting, and watering.
Here are five pro tips for getting your garden ready for the spring while you still can.
1. Plant mums and pansies on top of bulbs.
Gardeners like us love to see a proud pop of color all season long—or as far as we can stretch it, anyway. To guarantee a grand garden in the fall and good growth in the spring, plant your flower bulbs now—and then plant your mums and pansies right on top. With a fresh look for the fall and bulbs ready to bloom in the spring, you won't have to get your hands dirty again until it's time to plant your summer annuals. Unless of course you want to!
2. Plant your favorites.
What are some of your favorite spring flowers? We love planting bulbs for tulips, daffodils, and hyacinths in the fall—but any fall bulb will do! When you plant your favorite fall flowers and bulbs now, you'll have blossoms blooming up until the first frost and then again as soon as winter's over. At Lockwood's, we have plants and bulbs for every season, so you can pick and choose what you want to plant any day of the week, 365 days a year.
3. Analyze your depth chart.
No, we're not talking about the Buffalo Bills—this time. Rather, we're looking at a bulb planting depth chart so you can get a good idea of how deep to plant your bulbs this fall. With the added ability to visualize how tall your flowers will grow—and when and where they'll blossom best—you can design your planting pattern accordingly.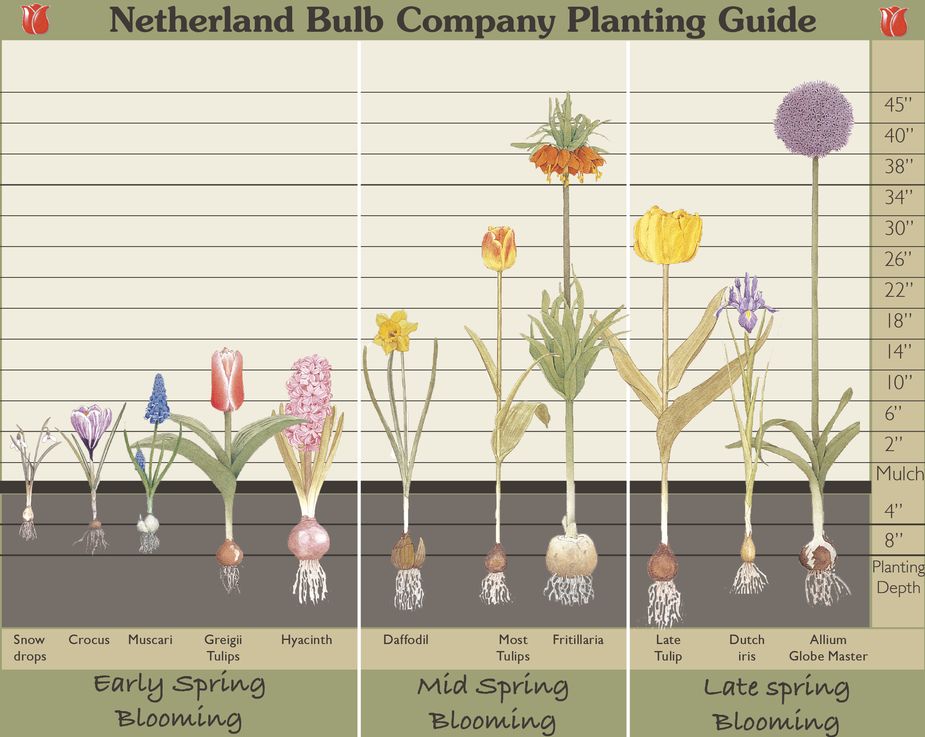 Remember, the most successful gardens start with the most informed decision-making. Whether you need a refresher course or full-blown lesson on planting different bulbs this fall, we can help! Remember to find us on Facebook for online videos, and don't hesitate to give us a call or drop by the shop.
4. Dig this video!
If you've got 55 seconds to spare, you've got time to see how easy to plant your spring-blooming bulbs this fall. For the best visual example and other helpful hints, check out this video.
5. The time is now.
There's no beating around the bush: If you want the best-looking garden on the block, you need to get those bulbs in the ground as soon as possible. As a general rule of thumb, you've got about six weeks until the first hard frost rolls around. In Western New York, who knows when that will be? We recommend getting your head in the game and your hands in the dirt sooner than later. Time is running out!
At Lockwood's, our rich history of beautifying Buffalo has blossomed into a living legacy of service to our community. Are you taking root in a new home or sprucing up your yard? Let's grow something special together. Contact us today, and don't forget to follow us on Facebook and Instagram!
Source credit: Netherland Bulb Company, 13 McFadden Road, Easton, PA 18045